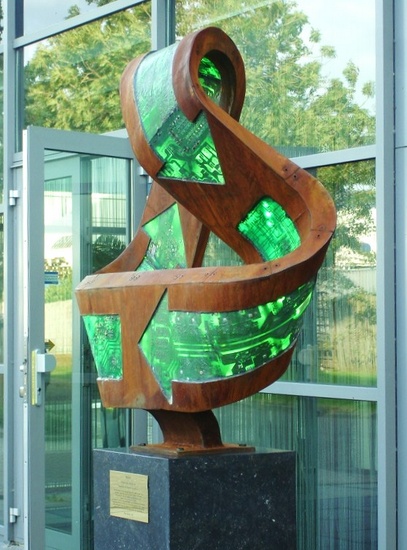 200 x 110 x 40 cm, © 2011, not for sale
Three-dimensional | Sculpture | Metal
Möbius band with recycle logo three-dimensional (see also BLOG https://www.peterschudde.nl/blog_post/15675155_M%C3%96BIUS+onthuld+door+Heiman+Bollegraaf.html#.WvmdXZdcL4Y) from corten steel and recycle printed circuit boards (Wecycle Ewaste) for 50 Anniversary Jubilee Bollegraaf Recycling Solutions The Möbiusband is a one-sided surface discovered in 1858 by the German mathematician August Ferdinant Möbius (1790-1868). A beetle can walk over the entire surface without ever going over the edge. This is the symbol for infinity; a perpetual cycle. Used very effectively by Gary Anderson in 1970 in his design for the Recycle Logo, a symbol that is now known all over the world for the reuse of raw materials.